Why follow the mini MFC?
Finance and control at management level! Many financials have proven themselves in practice and are progressing to management level. When taking these steps it's possible that undergoing the full lenght and depth of a Master Finance & Control is not what you're looking for. This is why the mini MFC was developed; the perfect program to develop yourself quickly, (cost) efficiently and effectively and if you want to broaden or update your financial and managerial knowledge.
Why this program:
The modules from the short MFC are all highlights from the Master of Science Finance & Control. By dealing with the highlights of a module per day, you get insight in one day into the most important themes within these courses and how to translate them practically. This will bring you to an academic work and thinking level.
Half of the content is a deepening and application in the own field of finance & control. The other half of the courses are managerial oriented. By working on themes such as "Strategy and policy", "Change management", "strategic Marketing" and "Leadership" you learn to combine the strength of your specialism with business operations.
The start of the training is a three-day training in the field of personality analysis and coaching. This not only gives you insight into your own performance, but also gives you a better understanding of how others think and can be convinced.
About the program

The Mini MFC  program consists of 11 lecture days focused on a specific theme and several days you spend with your studygroup writing your final assignment. The first 3 days are wrapped together in a kick-off session focussing on the themes personal leadership and selfmanagement. A great way to get to know your fellow students, but also yourself! This kick-off session will be a combination of indoor and outdoor activities all focused on the theories about leadership and communication. During the other 8 lecture days you will focus on various financial themes such as Corporate finance and Management Accounting & Control but also managerial themes such as Change Management, Strategic Management, Marketing & Sales and more. For the full program please download the brochure or contact one of our study advisors.
The teachers and professors are all experts in their own workfield which guarantees a translation of business theories in to pratical examples. the students are invited to bring in practical examples themselves so that they can be discussed during the lectures.
Why study at City Campus Dordrecht?
City Campus Dordrecht offers substantively strong programs with a lot of attention for personal development. We guide all our students personally and are able to tailor our programs to your situation.
Program accreditation
On successful completion of this program, you will receive the Certificate Post Academic Business Administration from the NVAO accredited university 'Netherlands Business Academy'.
Mini MFC structure
Below you will find an overview of themes of the lecture days. Apart from the Kick-Off each theme will be discussed in 1 day. For more information about working with the highlights of the themes in this Mini MFC you can download the brochure.
Kick-Off Selfmanagement, Leadership & Coaching (3 days)
Management Accounting & Control
Organizational Accounting information systems
External reporting
Corporate Finance
Strategic management
Marketing & Sales
Change Management
Leadership
Duration
The Mini MFC in English is a fulltime study program that will be completed in 3 to 5 weeks  (duration will depend on holidays and availability)
Admission requirements
To follow the Mini MFC you must at least have a bachelor diploma. The admission proces can include an interview with a study advisor from City Campus Dordrecht. Based on this you will receive a study advice and you can be admitted to the study program.
Language requirements
To follow this program you must be fluid in English (oral & writing). To establish if you meet the criteria an English test is part of our admission proces. 
Other
Do you not exactly meet the admission requirements? Please contact our study advisors to see what is possible in your specific situation. 
Duration and study load
The Mini Master programs consists of 11 lecture days and several study group sessions. Outside of class hours, you must count on a reasonable study load per week for writing your assignments. The total duration of the program is between 3-5 weeks. If you want a more detailed timetable please contact one of our study advisors. 
Lecture days
During the week (Monday - Friday) you are expected to be fulltime available for lectures and study sessions. Sometimes lectures will be giving in the evenings as wel. The weekends are study free and you can visit nearby city's like Rotterdam, Amsterdam or Dordrecht itself. 
Location
City Campus Dordrecht offers it's programs in the city of Dordrecht in the Netherlands. Dordrecht is located only 10 minutes by train from Rotterdam. For your stay here we will require you to arrange housing and a visa (if required). City Campus Dordrecht can help you with the arrangements if needed.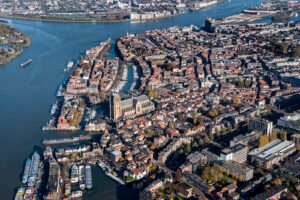 Language
Literature, lectures and coaching is given in English. 
Costs
The total educational costs are € 3.885,-. This does not include literature, living costs, accommodation costs and VAT. Please download the brochure for a detailed cost overview.