The MBA program Culture, Heritage & Citizenship (CHC) is a joint program of City Campus Dordrecht and Amsterdam Summer University (AMSU) in collaboration with the Felix Meritis Connecting Cultures. The MBA program is designed for initiatives, project organizations, companies (NGOs), governments and semi-governmental organizations that are looking for positioning and repositioning of their role in the "participation society".
Culture, heritage and citizenship
The participation society goes beyond the buzz word. The theme of citizenship is not only current with the government; it is the new guiding principle in the broad cultural and heritage sector (archives, museums, monuments, performing arts, festivals and cultural industry).
Yet there is a lack of an interdisciplinary approach that brings together the management of citizenship programs, culture, heritage, (public) buildings and institutions. Too often, annual figures, occupied seats and returns take precedence over the relationship between the institution and society.
The parties in the market gradually come to the conclusion that the participation of citizens in the solutions of social issues must be organized in a very different way. Too many well-equipped providers are only suppliers of services to the (subsidizing) government.
Because of their nature and continuity, cultural and heritage institutions can play a decisive role in the contact between citizens and society. In addition to fulfilling the core task, the institution is increasingly becoming a "citizenship educator".
Why this program?
● Unique accredited Masters degree in culture
● Part-time training for professionals
● Financing options
● More than 30 renowned guest teachers
● Can also be followed per module
● Access to high-quality knowledge network
● Small interactive study groups
● Side events abroad
After completing this course you are:
1. Expert active citizenship in culture
2. Effective leader
3. All-round oriented in the sector
About the program
The MBA Culture, Heritage & Citizenship program covers a variety of business fields. You gain insight into business processes, change management, market developments, policy and strategy. The training is designed for (future) managers in the broad heritage and cultural sector or those who, from other disciplines, want to play a (final) responsible role in the necessary (re)positioning of art, culture and heritage institutions in the participation society.
In addition to the business process themes you will follow a variaty of inspirational lectures on different, and current, culture themes.
You conclude the various modules with a paper that you write from your own work situation. This allows you to apply the theory directly in practice.
The teachers and professors are all experts in their own workfield which guarantees a translation of business theories in to pratical examples. the students are invited to bring in practical examples themselves so that they can be discussed during the lectures.
Why study at City Campus Dordrecht?
City Campus Dordrecht offers substantively strong programs with a lot of attention for personal development. We guide all our students personally and are able to tailor our programs to your situation.
Program accreditation
The Master of Business Administration is NVAO accredited. After this program you can use the title MBA. For more information about this accreditation and the system of accreditations in the Netherlands, please refer to our page about NVAO.
MBA structure
Below you will find an overview of themes of the lecture days. 
Kick-off
• Self-management, Leadership & Coaching
• Written communication & Methods & Techniques of Research
Block 1:
• Finance, Management & Control
• Operations Management & Quality
• Human Resource Management
• Project Management
• Marketing
Block 2:
• Strategy & Policy
• Management Control & Information systems
Block 3: 
• Change management
• Leadership
• Ethics
Block 4: Thesis
• Master Thesis Writing
In addition you will follow 10-15 inspirational lectures on Culture, Heritage & Citizenship
Admission requirements
To follow the MBA Culture, Heritage & Citizenship you must at least have a bachelor diploma. The admission proces can include an interview with a study advisor from City Campus Dordrecht. Based on this you will receive a study advice and you can be admitted to the study program.
Language requirements
To follow this program you must be fluid in English (oral & writing). To establish if you meet the criteria an English test is part of our admission proces. 
Other
Do you not exactly meet the admission requirements? Please contact our study advisors to see what is possible in your specific situation. 
Duration and study load
The total duration of the program is 8-12 months for fulltime students. If you want a more detailed timetable please contact one of our study advisors. 
Lecture days
During the week (Monday - Friday) you are expected to be fulltime available for lectures and study sessions. Sometimes lectures will be giving in the evenings as wel. The weekends are study free and you can visit nearby city's like Rotterdam, Amsterdam or Dordrecht itself. 
Location
City Campus Dordrecht offers it's programs in the city of Dordrecht in the Netherlands. Dordrecht is located only 10 minutes by train from Rotterdam. For your stay here we will require you to arrange housing and a visa (if required). City Campus Dordrecht can help you with the arrangements if needed.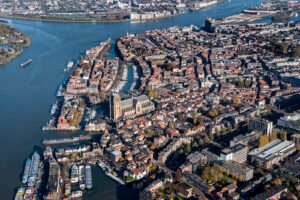 Language
Literature, lectures and coaching is given in English. 
Costs
The total educational costs are € 25.625,-. This does not include literature, living costs, accommodation costs and VAT. Please download the brochure for a detailed cost overview.